While in Edinburgh a few months ago, I was super stoked to be steeped in Harry Potter awesomeness. This is where the books were written and a lot of inspiration was found, and walking around, it's not hard to understand why. Beyond all the gorgeous scenery and history, the city is full of oddly named buildings and people and little winding alleyways. I love it. It was the perfect way to start off the trip that lead into a second week in London, where we also visited the Warner Bros. Harry Potter Studio Tour.
George Heriot School (possible inspiration for Hogwarts) as seen from Camera Obscura
Eric and I had plans to visit many of the Harry Potter locations on our own, but we also did a proper tour near the end of our week in Edinburgh. Here's what we did separately first, and then I'll run through our tour.
If you've ever wanted to stroll down Diagon Alley, then Victoria Street should definitely be on your list. It's two stories of colorful shops and restaurants and has store fronts that you might find in the Wizarding World: A Ha Ha Joke Shop is like Zonko's, The Boy Wizard sells all sorts of Harry Potter Merchandise, Museum Context has 4 stories of wizarding gear, including a full-size basilisk head and other photo ops, John Kay which might have inspired Flourish & Blotts. I'm sure there were more, but it's just fun to wander up and down the street. There's even a great little ice cream hut at the bottom of the street that has cool flavors like Florean Fortescue's.
Greyfriar's Kirkyard
Greyfriar Kirk and Kirkyard (you would know that as a church and cemetery) is in a small walled yard a little bit from Victoria Street full of tombstones for important historical people from Edinburgh. Many of the graves here belong to people who have the same name as those found in the Harry Potter series: Black, McGonnagall, Tom Riddle, Crookshanks, Moodie, etc. You can spend some time searching each stone for notable names, or you can head inside the cute little church and purchase a map to seek them out more quickly. It's only 50p or so.
We took a quick tour and spoke to several people inside, where we learned that when the church needed to have its roof redone, they shipped over gorgeous California redwood for it. Even if you aren't religious at all (we're not), the small museum in the back is really worth a visit to see some artifacts and learn about the monastery, the history of the kirk, Greyfriar's Bobby, and the garden itself. Also, if you don't go inside the church, you'll miss the only way to properly view the amazing stained glass windows, since they are covered by mesh on the outside due to vandals. *sad face*
Anyone who is a fan of Harry Potter knows that Elephant House is basically the place where Rowling was able to start the series. This was before she became so famous that you had to wait in line for a table at any time of day. This coffee shop is a bit misleading, because it serves food and pastries all day in addition to coffee. In fact, the menu is fairly large. The cafe is called Elephant House, because it is full of Elephant statues, artwork and planters. We had a short wait, sat down at a table in the back, and ordered two coffees, a shortbread cookie, and a sweet potato cake. (I can't get that cake elsewhere and I was urged to try the Scottish shortbread while in town.) Everything was delicious, and I wish I hadn't just eaten lunch an hour before, because I would have ordered more.
Once the cafe started to gain popularity for being the home of Harry Potter, something odd started to happen. Fans began to fill all surfaces of the bathrooms with Harry Potter graffiti. This is a rite of passage now. This is just one of the doors inside the women's bathroom. The walls, the ceiling, and even the light were covered. I added my own as well. Eric went into the men's restroom, since I couldn't (or shouldn't) and took a few pics as well, one of which came directly from A Very Potter Musical: Hermione Can't Draw, which we both died laughing over. It just goes to show how deep and awesome this fanbase is.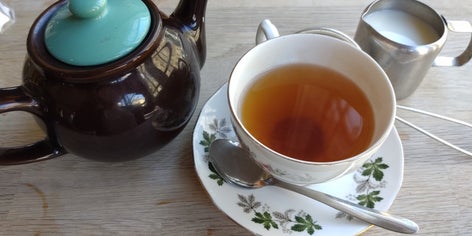 Rowling often wrote in another cafe, which has since changed hands and names in the last 20 years. In fact, Spoon isn't even the cafe. It just occupies part of the original building. You'll see a plaque on the outside of the building if you just want to see it. We planned to have breakfast somewhere, and Spoon was as good as any. They have a lovely tea selection and a small food menu of affordable simple dishes. Somehow, all my photos of Spoon have disappeared, except this one from Swarm, which sucks, because this place was really cute.
At the end of our week in Edinburgh, we took a free tour from City Explorers Tours, which actually cost us
£
20 in the end, because tour guides work on tips and we felt we got more than we might on an actual paid tour, where we would also be expected to tip
. It lasted 90 minutes and took us around to most of the places we'd already been on our own, including an overlook of Balmoral Hotel, where Rowling lived for 4 months, working on the last book. At this time, she was so famous, she couldn't really go anywhere else outside her house without being mobbed by people.
Unfortunately, there were a lot of barriers out, due to the filming of the newest Fast & Furious movie
We started on the Royal Mile, where we explored the gold handprints at City Chambers, walked past Elephant House, walked down Victoria Street, strolled through Greyfriar's Kirkyard to see specific stones and also George Heriot's School behind it, saw Balmoral Hotel in the distance, and saw Potterow Port, the underpass they used for filming the Dementor scene in Order of the Phoenix.
Yes, we spent a lot of time retracing our footsteps from the previous week, but our guide Roisin (ro-shawn) was very knowledgeable and gave us cool facts and anecdotes that we didn't know and wouldn't have learned outside of the tour. It was fun to go back and actually be able to spend time listening to the tour and not have to worry about also taking photos at the same time. I, honestly, think this might be a way for me to more thoroughly enjoy other tours in the future. There's quite a lot of info packed into an hour and a half, and I highly recommend taking one of their tours, even if you don't like Harry Potter. They have a handful of free tours that happen everyday. Just make sure you have cash on hand to tip your guide at the end. It's how they pay their bills.
The awesome part about making a day of all this is that it is practically free. If you want to visit Elephant House without eating anything, it's
£1
to go in and visit the restroom, which is all the way in the back, so you can take a quick tour, hit to loo to emblazon the wall with your Harry Potter memory or favorite quote and then head back out.
I'll be writing more Harry Potter info on London, so if you are a fan, stay tuned. Next time we visit Scotland, we'll definitely make time to take the train used for the Hogwarts Express long shots.
What's your favorite memory from Harry Potter, either the films or the books? I love all the little details of the Hogwarts grounds when the seasons change, but I also love Harry's first trip to Diagon Alley and want to shop all those stores. This trip got me a tiny bit closer to that.